Ahoy, Learners! How are you doing today? Semoga hari kalian menyenangkan ya. Idiom of the Week Blog Bahaso minggu ini adalah;
safe and sound
.
Keep reading
untuk tau selengkapnya, ya.
Jika kalian pernah berada dalam suatu keadaan yang berbahaya, lalu kalian berhasil selamat dan melewatinya, maka kalian sekarang sudah safe and sound.
Ya, idiom ini digunakan untuk menyatakan seseorang telah selamat dari suatu bahaya atau masalah.
Contohnya: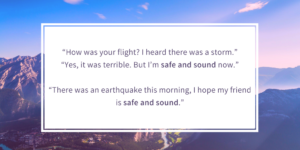 Sekarang giliran kamu, Learners, untuk menggunakan idiom safe and sound ini dalam sebuah kalimat. Tulis kalimat kalian di kolom komentar di bawah ya.
Yuk Berlatih bahasa asing online di bahaso.com Gaya Zaman NOW! (Gratis 3 lesson pertama)
Dan ikuti kelas tutoring online IELTS dan TOEFL di bahaso.com/class
Diskon sepanjang tahun!