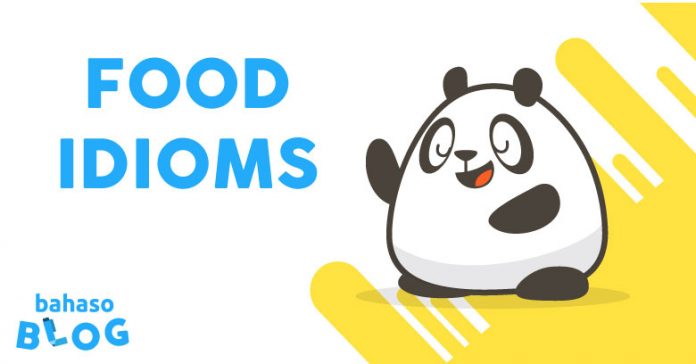 Greetings, Learners! Pada kesempatan kali ini, kita akan bahas idioms yang menggunakan "makanan." Kira-kira apa saja, ya?
Let the

chips

fall where they may
Ketika kalian sedang makan keripik kentang, dan remah-remahnya jatuh ke baju kalian, pasti kalian akan langsung membersihkannya, bukan? Nah, idiom ini mempunyai arti untuk membiarkan suatu situasi terjadi tanpa khawatir akan konsekuensinya.
I'm gonna leave my job and let the chips fall where they may.
Clear as a

dumpling

broth
Siapa yang makanan favoritnya adalah dumpling atau dim sum? Idiom clear as a dumpling broth artinya sesuatu yang sangat jelas. Idiom ini mirip dengan crystal clear, jadi jika kamu sedang membahas sesuatu dan hal tersebut sudah sangat jelas, kamu bisa bilang clear as a dumpling broth.
A: Is everything clear?
B: As clear as dumpling broth.
Jika kamu gampang sekali diyakinkan untuk melakukan sesuatu, maka kamu termasuk low-hanging fruit, Learners. Sesuatu yang sangat mudah untuk didapatkan, juga termasuk sebagai low-hanging fruit.
Siska has been a low-hanging fruit for skin care products. She really believed
those
skincare product advertisements and bought them all.
Idiom ini berasal dari Spanyol, lho, Learners. Tetapi siapa yang menyangka, idiom dari Spanyol ini artinya adalah menolak sesuatu atau seseorang.
I invited Liam to the movies, but he gave me pumpkins.
Caught one's hand in a

cookie

jar
Arti idiom ini adalah menangkap basah seseorang yang sedang melakukan sesuatu, terutama dalam hal buruk.
They caught me with my hand in the cookie jar
.
Itu dia, Learners, 5 idioms yang menggunakan makanan. Untuk idioms lain yang menggunakan kata "makan," bisa lihat disini ya!
Yuk Berlatih bahasa asing online di bahaso.com Gaya Zaman NOW! (Gratis 3 lesson pertama)
Dan ikuti kelas tutoring online IELTS dan TOEFL di bahaso.com/class
Diskon sepanjang tahun!