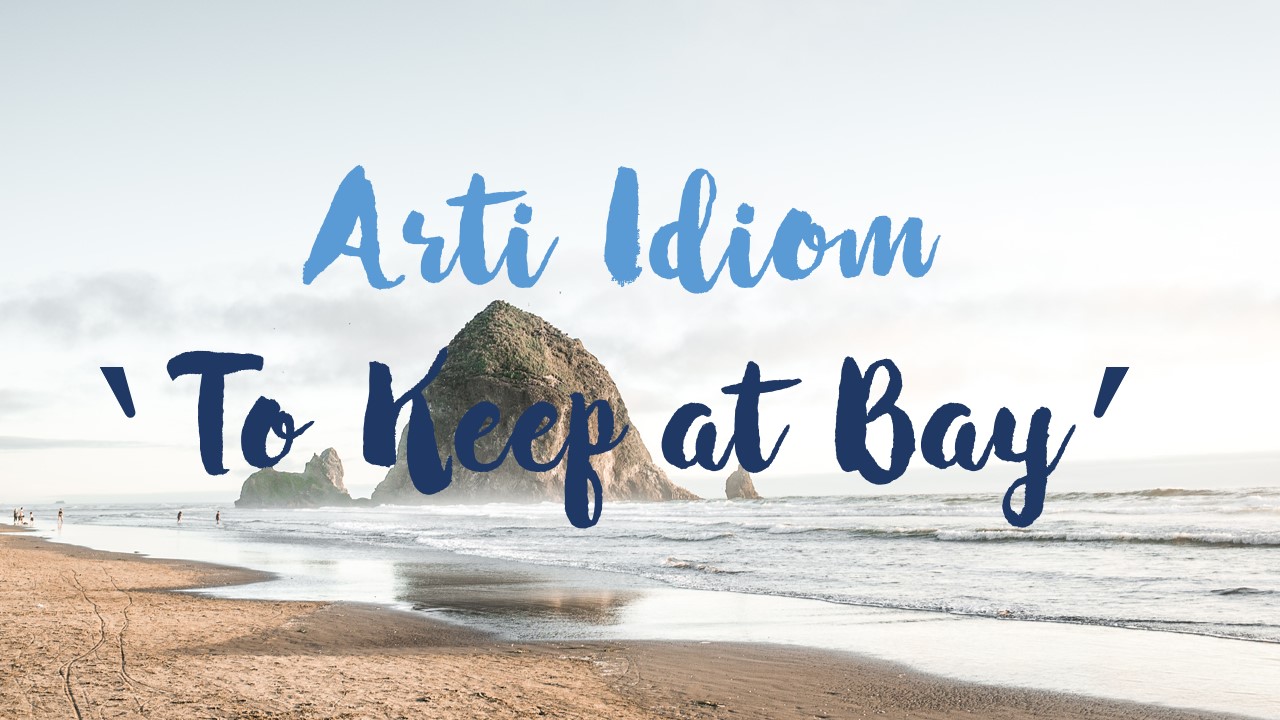 Arti
Keep at bay secara harfiah bisa diterjemahkan berjaga atau bertahan di teluk. Namun keep at bay merupakan sebuah idiom yang maknanya, tentu saja, berbeda dengan arti harfiahnya. Keep at bay berarti mengendalikan atau menahan sesuatu agar tidak menimbulkan masalah di kemudian hari (The Free Dictionary).
Asal-usul
Karena arti harfiahnya mengandung kata 'teluk', tak sedikit orang mengira bahwa frasa ini berasal dari para pelaut jaman dahulu. Akan tetapi, ternyata frasa ini adalah frasa turunan dari kata dalam Bahasa Perancis "abbay" atau "abai" yang berarti 'menggonggong'. Awal pemakaian kata ini dalam Bahasa Inggris dikatakan dimulai sejak abad 14 untuk mendeskripsikan suara anjing pemburu. Pada jaman pertengahan, anjing Hound digunakan untuk membantu berburu babi hutan. Pada masa itu anjing-anjing pemburu dilepas hingga ia menemukan babi hutan dan memojokkannya. Karena babi hutan merupakan hewan yang berbahaya, anjing-anjing pemburu tidak bisa menyerang langsung. Yang bisa mereka lakukan adalah menggonggong sekeras-kerasnya untuk memberi tanda keberadaan mereka kepada pemburu. Situasi ini biasanya disebut dengan "at bay". Keep at bay berasal dari posisi bertahan babi hutan agar anjing-anjing yang buas itu tidak menyerang.
Contoh Kalimat
We kept the flood waters at bay by building a wall of sandbags around our house.
On Friday, several residents north of town used sandbags and other materials in attempt to keep at bay a creek that was inundating low-lying properties.
We can come to a greater feeling of peace in our lives by addressing the acute and chronic traumas that we have buried deep within us and try to keep at bay.