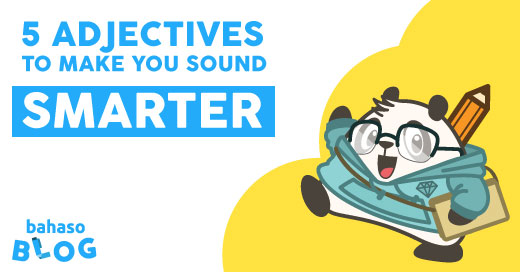 Namaste, Learners! Mau terlihat lebih keren saat berbicara dengan Bahasa Inggris? Salah satu caranya yaitu dengan menggunakan vocabularies yang "fancy." Simak pembahasan berikut, ya!
Kali ini kita akan bahas 5 adjectives (kata sifat) yang bisa membuat kamu terlihat lebih "jago" berbahasa inggris.
Ubiquitous
Jika kamu ingin menggambarkan sesuatu yang berada di mana-mana, kamu bisa menggunakan kata ini.
Everywhere I go, I always see that green helmet–it's ubiquitous.
Facetious
Kalau kamu suka membuat lelucon yang menurut orang lain kadang suka berlebihan, maka kata ini cocok sekali untuk kamu. Facetious artinya jangan dibawa serius atau "diambil hati."
Don't be mad, Jim's just being facetious.
Pensive
Pensive artinya seseorang sedang dalam keadaan berpikir yang sangat serius. Jadi, kalau ada teman kamu yang sedang pensive, jangan diganggu ya, Learners!
Pam is ignoring her food because she's in a pensive mood.
Conscientious
Seseorang yang bisa memposisikan dirinya dalam keadaan orang lain, dan bisa menghormati orang lain, adalah orang yang conscientious.
Angela is very conscientious of her colleagues.
Meticulous
Kalau kamu merupakan orang yang sangat teliti terhadap sesuatu yang sedang kamu kerjakan atau yang ada di sekitarmu, maka kamu termasuk orang yang meticulous.
Dwight is very meticulous of his work.
Selamat mencoba, Learners!

Yuk Berlatih bahasa asing online di bahaso.com Gaya Zaman NOW! (Gratis 3 lesson pertama)
Dan ikuti kelas tutoring online IELTS dan TOEFL di bahaso.com/class
Diskon sepanjang tahun!