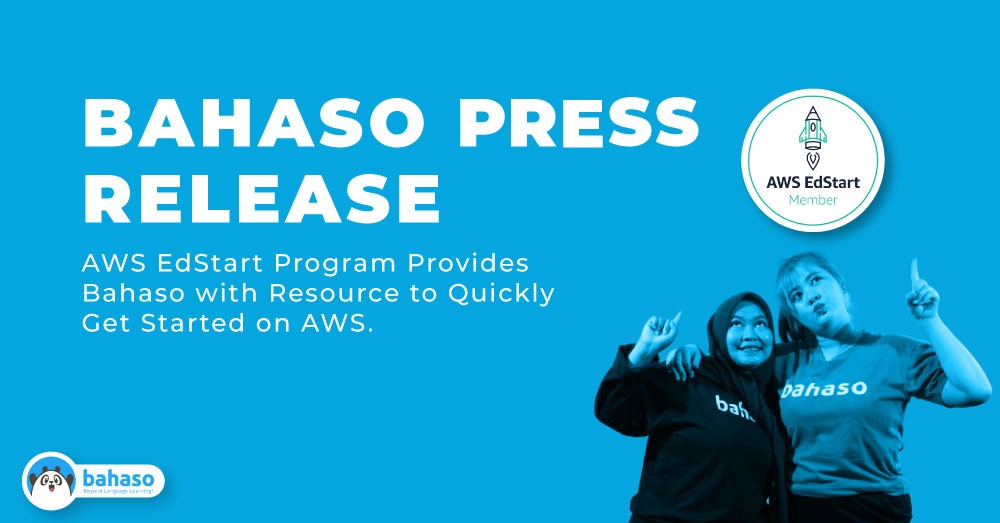 BAHASO PRESS RELEASE
AWS EdStart Program Provides Bahaso with Resource to Quickly Get Started on AWS
Jakarta, 29 Januari 2021, Bahaso is a foreign language learning application that is interactive, flexible, fun and more effective in helping anyone who wants to master a foreign language faster. Bahaso has online class products with exciting tutoring programs through applications and chat messengers with quality tutors and supportive friends anywhere and anytime. Bahaso's online class products are General English, Mandarin, Bahaso IELTS & TOEFL Preparation, Bahaso Talk and Bahaso Quiz.
Bahaso designs online class applications with international standard learning methods and refers to the CEFR (Common European Framework of Reference of Languages). The material presented is not only in the form of text, there are also photos, audio, and video that make it easier for users to practice foreign language skills. The recognition of the voice recognition feature in the Bahaso application makes learning more interactive. In addition, the Bahaso application also has an "Offline Mode" feature that makes it easier for users to access learning without being connected to the internet.
CEO Bahaso, Alana Abdullah says, "Bahaso is trying to solve education problems by providing better learning content and tutor for students, youth, and young professionals in Indonesia, especially to learn the language. It will close the digital divide in the country, also saving costs for sending good teachers around the country, particularly in remote, outermost, or underdeveloped areas. From Bahaso application and platforms, we build self-learning and tutor based learning, which will open opportunities for the teacher to contribute to the platform. For self-learning, we will improve the learning management system to have a better flow on enriching and curating content. For tutor based learning, we will improve to have more tutor services".
On the same occasion, CTO Bahaso, Anwar Sadat says, "Through these approaches are enabling more contextual and practical learning content for students, interactively, and reduce the cost of better education, particularly in remote, outermost, underdeveloped areas in Indonesia. We make it easy for students to practice and increase their confidence in Indonesia to speak English. Another challenge is the need for knowledge and skills will be increasingly complex and diverse. So that we will develop content in accordance with the development of knowledge in the context of English. We will create a new experience and a new way of learning English".
For future opportunities, Bahaso have a plan to have a more analytical data platform, and video communication platform. Bahaso are looking for technical knowledge and credit usage to utilize cluster server and analytical data platform and video communication platform. Bahaso need partner to collaborate and support such as web application server (EC2), message queue system (SQS), database system, email system (SES), and etc.
Based on the plans and opportunities that Bahaso has, AWS Educational Techology (EdTech) believes that Bahaso's plans will encourage education in Indonesia to be even better. By providing support grants Bahaso as part of AWS EdTech through benefits such as equity-free financial support through AWS Promotional Credit, technical training and support, access to a global community of EdTech experts, AWS EdTech believes that Bahaso can realize and contribute to the Asian level.
#Bahaso #AWAEdStart #AWS_edu #AWS